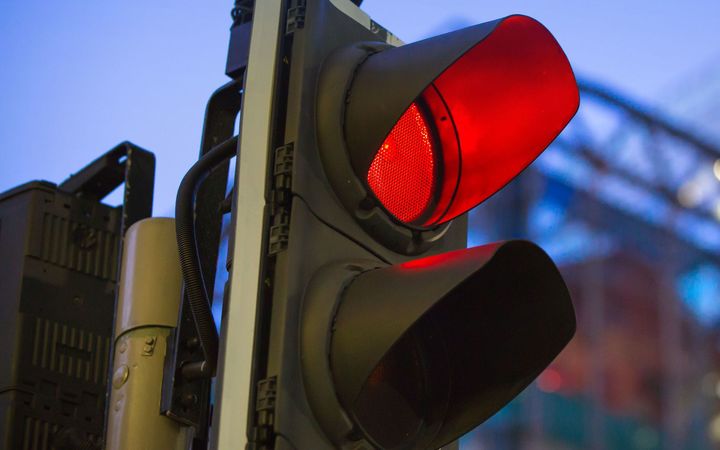 'Confusing', 'slow', 'rushed', 'risky' traffic light system – politicians
National and ACT say the government's planned move from alert levels to a traffic light system is confusing and slow as the Maori Party and the Greens demand more protection for vulnerable people.
The government this morning unveiled its 'traffic light' system, which would rely on vaccination certificates to provide more freedom even under the highest levels of restriction.
Auckland would move from alert levels to the most restrictive 'red' level under the new system when every DHB in the region reaches 90% full vaccination rates.
The rest of New Zealand would switch to "orange" when all of the country's remaining DHBs have reached the same 90 per cent level, but Prime Minister Jacinda Ardern has suggested the South Island could switch to the new system when its five DHB would do the same.
The Cabinet would assess on November 29 whether the parameters should change in the meantime.
"Appalling, confusing, complicated" – Collins
National leader Judith Collins said Aucklanders were in tears after the announcement and saw no way out of the "prison" their city had become.
She said the system was too confusing and would pit New Zealanders against each other to get vaccinated.
"What we saw today from the Prime Minister was appalling, confusing, complicated, and I think a lot of people in New Zealand felt exactly the same way as those people I spoke to this morning," he said. she declared.
"You don't have a system and you import another one that replaces it, but there's no effective date because it all depends on whether every district health board in the country has a rate 90% double vaccination rate is really confusing.
"Today is just absolute confusion. I'm so shocked the Prime Minister was able to release this and I'm heartbroken for these people watching their businesses go."
National's proposals — moving to a traffic light system at either 85% vaccination in each DHB or Dec. 1 — were, by contrast, very clear, she said.
"We made it very clear that 85% is when we would open. We would give people hope that they could make it, but they should also have a vaccination certificate – whatever these guys say they're 'gonna do if they can't even put a vaccination certificate. "
She said that meant no certainty for Aucklanders or those on the South Island who might have to wait for North Island DHBs.
"They're being held hostage by some people who don't want to get vaccinated. And in the meantime, the government is just pitting New Zealanders against New Zealanders."
She said the government should instead accept that some people were not going to get vaccinated and that the rest of the population should be able to get on with their lives.
Freedom depends on the 'lazy' getting vaccinated – ACT
ACT chief David Seymour also argued for a specific date when the system could come into effect, rather than a vaccination target, and had little sympathy for those who had yet to receive their vaccine .
"I think New Zealanders had high expectations this morning and were given a far more complicated freedom day than what the ACT and later National offered…exact timing will depend on whoever is laziest in your community that will choose to be vaccinated.
"Listen, there aren't many excuses for not getting vaccinated, you have a legitimate medical reason or you were way too lazy to go to one of the many centers that have now been open for months and months."
He said the traffic light system as it was made a lot of sense, but the process of getting there was a real hassle.
"We're not going to get there for very long, you wait for the slowest DHB to get there," he said.
"The roadmap used to be a bit of a road to nowhere, now we have the traffic lights on the road – it's kind of like one of those toy car games we used to play as kids."
He however disagreed with Collins' suggestion that New Zealanders would be pitted against each other.
"There are a number, at least four DHB regions that are still in the mid-70s… If they can't say 90% – and they're 15 points behind right now and they're the slowest historically … They will hold the country hostage forever."
"I see this as action versus inaction and this action is clearly going to significantly reduce the impacts on critical care, increase our resilience against Covid and enable us to live in a Covid world, which we need to do – urgently, for so many reasons."
'Squid Game' system will lead to death of Maori – Te Pāti Māori
Maori party co-leaders Rawiri Waititi and Debbie Ngarewa-Packer also criticized the government's plan – not for slowing down, but for putting Maori and other vulnerable people at risk.
They said the government had resisted setting targets specifically for Maori, ignoring the advice of health experts and iwi, and compared the system to the squid game TV show.
"On every indicator, Maori are likely to take the biggest hits from a Delta outbreak; vaccinated or not," Ngarewa-Packer said.
"The government has even ignored the advice of the Iwi Chairpersons Forum, which is apparently their most trusted advisory group on behalf of Maori, who have flatly rejected the traffic light system…Iwi chairpersons think the strategy is wrong and goes against Te Tiriti principles, and we totally agree.
Waititi said the government talks a lot about the money thrown at Maori, but it is not reaching Maori.
"They're lying. It's up to the DHBs to deliver to the Maori, DHBs who have failed our people," he said.
"The Prime Minister says no one will be left behind. What she means is no one will be left behind except Maori. Let the squid games begin."
The "rushed and risky" traffic lights – Greens
The Green Party also warned that the government's approach was "rushed and risky" and offered a different approach.
"The proposed vaccination targets are insufficient to protect the most vulnerable and risk opening up before everyone is safe on an equal footing," said Covid-19 Response spokeswoman Julie Anne. Genter, in a statement.
She said the government needed to do more for those struggling to meet the cost of living, with rent freezes, easier access to hardship grants and more.
Green Party health spokeswoman Dr Elizabeth Kerekere called for more Maori leadership in partnership with GPs and urged the continuation of the elimination strategy until 95% of Maori and eligible Pacific people are fully immunized, plus a total population immunization rate of at least 70% for all ethnic groups and geographic areas.
"Maori and Pasifika are much more likely to have underlying health conditions that put them at greater risk of Covid. They are also more likely to live in communities where Covid spreads more easily and to work in high-risk jobs," she said.
The party also called for additional intensive care capacity, ventilation requirements for all workplaces, a new wage subsidy for carers and a formal process to involve iwi in strategic Covid-19 decisions.
National "appalled" by the approach of financial support
Collins was 'appalled' by the finance minister's proposed financial support plans and wondered how he could threaten companies that might consider not using the vaccine certification system when that system was not in place. still available.
"First, it's not his money. Second, on the one hand, we're told that companies won't be able to access the money unless they adhere to the whole vaccine certification He doesn't even have his certification."
"Threat is not the way to get people to do these things. Look at why people hesitate. They often hesitate because they will be swayed by incorrect information propagated by people who are supposed to be scientists and other . . It's just that they need to be educated, not threatened."
Its revenue spokesman, Andrew Bayly, said the increase in the resurgence support payment was welcome but would come too late for many businesses who would have to wait another three weeks to access it.
"Nor has there been targeted support for the most struggling sectors, such as the tourism, hospitality and events sectors. When Auckland struggles, operations in these sectors across the country The government has once again forgotten about these companies.
"We thank the minister for taking up National's idea of ​​a corporate mental health support fund, which we've been advocating for the past few months.
"Aucklanders have struggled in what is the longest lockdown of this pandemic. Over a million Aucklanders have gone for vaccinations, but are barred from accessing bars and restaurants, or to visit friends and family."