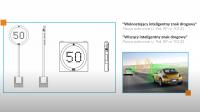 Smarter road signs to come? | Eurek alert!
MELVILLE, NY, December 7, 2020 – Have you ever gotten caught in a pile up or nearly missed one in bad weather? Polish researchers have created smart traffic signs that use integrated Doppler radar, video and acoustic radar, and weather stations to monitor road traffic and conditions to warn drivers in real time of hazards and prevent collisions on the highways.
At the 179th meeting of the Acoustical Society of America, taking place virtually December 7-10, Andrzej Czyzewski of Gdansk University of Technology will describe his applied research project to develop self-contained traffic signs with built-in acoustic radar devices. His session, "Comparison of Traffic Intensity Estimates Using Passive Acoustic Radar and Microwave Doppler Radar Sensor," will be held Dec. 7 at 10:15 a.m. EAST the United States.
"We can calibrate an acoustic vector sensor so that it can be used to measure road traffic volume and count vehicles by analyzing the noise they make as they pass," Czyzewski said. "Our work also allows us to compare the effectiveness of microwave and acoustic radar methods."
The signals obtained via the Doppler radar can be used as a reference source.
"Although the Acoustic Vector Sensor, the embodiment of the Acoustic Radar, has lower accuracy than Doppler Radar when counting vehicles and is not able to measure vehicle speed with the same accuracy, it has key advantages over to Doppler sensors," he said.
The main advantages are that it emits no signal and is not susceptible to electromagnetic interference like Doppler sensors are. An acoustic vector sensor also helps analyze audio signals to provide an assessment of road conditions, whether wet or dry.
As part of this project, signs are designed that can be placed on a mobile stand or suspended above the road. They display dynamically updated recommended speeds, which are determined automatically by an electronic module mounted in the traffic panel.
The panels communicate via V2X technology, also known as vehicle-to-everything, a Wi-Fi derivative designed for fast-moving objects that allows Bluetooth-enabled smartphones and cars to talk to each other.
That technology was set to roll out earlier this year, "but the pandemic has slowed production," Czyzewski said.
###
MORE INFORMATION ON THE MEETING
USEFUL LINKS
Main meeting site:
https://acousticalsociety.org/overview-ave/ Technical program: https://acousticalsociety.org/technical-program/
Press room:
http://acoustics.org/world-wide-press-room/
GLOBAL NEWSROOM
In the coming weeks, the ASA Global Newsroom will be updated with additional tips on dozens of newsworthy stories and with articles in lay language, which are 300-500 word summaries. presentations written by scientists for a general audience and accompanied by photos, audio and video. You can visit the site during the meeting at http://acoustics.org/world-wide-press-room/.
PRESS REGISTRATION
We will grant free registration to accredited journalists and professional freelance journalists. If you are a journalist and would like to attend, contact the AIP media line at 301-209-3090. For urgent requests, staff at [email protected] can also help arrange interviews and obtain images, sound clips or background information.
VIRTUAL MEDIA BRIEFINGS
Press briefings will take place virtually during the conference. Accredited media can pre-register by emailing [email protected] including your full name and affiliation in the message. The official schedule will be announced as soon as it becomes available and registered participants will receive login details by email.
ABOUT THE ACOUSTIC SOCIETY OF AMERICA
The Acoustical Society of America (ASA) is the premier international acoustics scientific society devoted to the science and technology of sound. Its 7,000 members worldwide represent a broad spectrum of the study of acoustics. ASA publications include The Journal of the Acoustical Society of America (first world review on acoustics), acoustics today magazine, books and standards on acoustics. The society also organizes two major scientific meetings each year. For more information about ASA, visit our website at http://www.acousticalsociety.org.
---
Warning: AAAS and EurekAlert! are not responsible for the accuracy of press releases posted on EurekAlert! by contributing institutions or for the use of any information through the EurekAlert system.