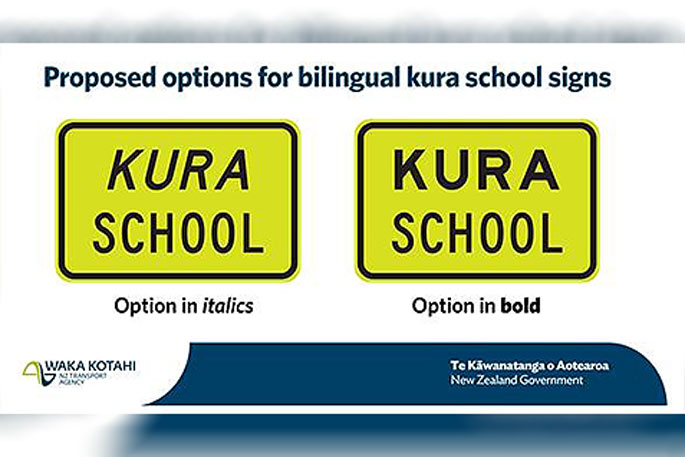 SunLive – Kura School Bilingual Signage Starting 2022
Proposed options for bilingual school signage are being released for consultation this week, said Waka Kotahi, Director of Ground Transportation, Kane Patena.
The proposal will see the word kura in bold or italics placed above the word school to differentiate te reo Māori and English.
"The government wants Te Reo Maori to be seen, spoken and heard wherever possible, in order to continue the revitalization of the language. We are taking the opportunity to introduce bilingual school signs ahead of other bilingual road signs to align with expected changes to speed limits around schools from next year," Mr Patena said.
The new Ground Transport Rule: Setting Speed ​​Limits 2021, which is expected to be implemented in 2022, will require traffic enforcement authorities to set slower speed limits outside of schools to create a travel environment safer for whānau and tamariki. Forty percent of school speed limit changes are to be completed by 2024 and the remainder by 2030.
Bilingual signs have been used on the network for some time, but the proposed rule change will contribute to more consistent and safer use across Aotearoa New Zealand.
"Aligning the timing of the introduction of kura school signs with proposed changes to speed rules helps maximize existing funding and enforcement resources set aside by traffic enforcement authorities for new signs. speed limit."
"With over 2,500 schools across Aotearoa in New Zealand, this presents a significant opportunity to increase New Zealanders' exposure to te reo Māori through signage," Mr Patena said.
Transport agency Waka Kotahi NZ has undertaken research to identify international precedents and examine the safety implications of bilingual signage.
Many countries use bilingual signage and no evidence has been found of bilingual signage increasing the number of people killed or seriously injured.
A long-term program of work led by Waka Kotahi, with support from the Te Manatū Waka Department of Transport and input from Te Taura Whiri i te Reo Māori and Te Mātāwai, is developing a phased approach to the introduction of traffic signs bilingual.
Developing a selection criteria will prioritize which panels are introduced first.
"Waka Kotahi will continue to investigate additional bilingual or Maori-only te reo signs that may be activated across the motu."
Further details on the consultation, including how to submit a bid, can be found at https://nzta.govt.nz/about-us/consultations/
The consultation closes at 5 p.m. on Friday, December 17.
Research on international bilingual signage is available at: https://www.nzta.govt.nz/resources/research/notes/005