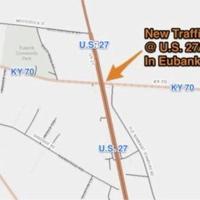 US 27/K. Traffic light 70 becomes fully operational on Monday | Local News
The wait is over for a traffic light at the intersection of US 27 and Ky. 70 in Eubank. The new signal should be fully activated on Monday.
In flashing mode since December 27, the light will temporarily be accompanied by signs warning motorists of the new signal since the intersection did not have full red-yellow-green before.
The Kentucky Transportation Cabinet (KYTC) encourages drivers to exercise caution when traveling in the area until they get used to the new signal.
The traffic light is the result of long-standing efforts by the Eubank community following multiple serious wrecks at this intersection over the years.
State highway officials announced last March that an RCUT (U-turn with restricted passage) would be installed to block direct access from the east and west sides of Ky. 70. But before this project was even launched, another wreck claimed the life of a Somerset teenager in July.
The resulting public outcry caused KYTC to change its plans in favor of a more traditional traffic light. The crews started working there at the end of October.
For the latest traffic and travel information, visit goky.ky.gov or download the free Waze app at www.waze.com. Motorists can also access traffic information for District 8 counties – including Pulaski – at www.facebook.com/KYTCDistrict8 and at www.twitter.com/KYTCDistrict8.